This week's inspiration started with a very late school bus. My son's bus driver has been on vacation and the substitute drivers have been really, really tardy. So much so that he missed most of Math the other morning when the class was going over the volume of a pyramid. I checked with his teacher and seeing he had missed the explanation for the formula decided to try out some activities at home to make up the gap.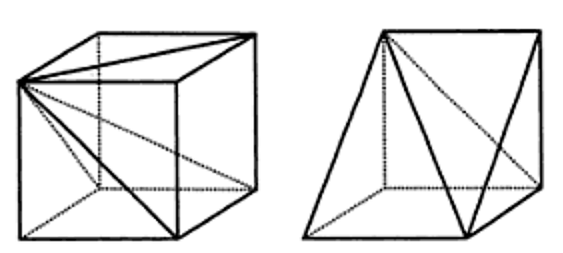 To start, while I love much of Geometry the introduction of sundry area, and volume formulas in the middle school sequence seem pretty pointless to me. They don't connect with much before or afterwards and are often taught without sufficient explanations. Frankly you can go really far even in pure Mathematics without ever missing the pyramid formula. (Brainstorm topic: where would this fit more naturally? The calculus connection is fairly compelling ...) The missed experiments in class compared prisms and pyramids and the volume of rice they held. As an experimental process this is not bad but as a mathematical foundation it doesn't totally satisfy me. Its neither universal "How do you know that if the pyramid dimensions shift the relationship stays constant?" nor does it speak to "Why is this happening?" The question I want to provoke is "Why 1/3 and not 1/4?"
So at home, we started looking at the formulas and I asked "What does the similarity between the volume of a cube/prism and pyramid suggest to you?" I was lucky that was enough of a prompt for him to suggest "Is there a way to cut a cube into 3 pyramids?" From there we printed out some templates and built some 3-D models to show the trisection. This was enough fun that I thought I'd build a day out of it for the whole Math Club. To round things out I thought I'd bridge from there to an exploration of platonic solids. At this point I worried a bit about timing and decided to have some Sudoku puzzles in reserve. But I stayed firm and left them for the end if needed which as it turned out was not the case.
The afternoon began for real with me handing out spiced gum drops for reaching our problem of the week target. I also left out a sample tetrahedron I had built to see if I could garner any questions. (Nope) Once we were upstairs I decided to have a short debate about last week's problem.
Infinity Link
. I asked everyone to pick a corner of the room. One side for those in favor of Courtier A's offer, the other for Courtier B. A group of students actually remained off to the side and I asked what they supported. Their answer was they thought both offers were equal and since that seemed interesting I setup a 3rd corner for them. We then went around the room with everyone offering positions on why their side was correct and rebutting the other side's idea. This went on for may 5-6 minutes which was fun . The disadvantage was this format really makes universal participation hard to achieve so I wouldn't rely on it a lot. (To be fair: repeated usage could make it more natural for more kids to speak.) Secondly, a group of kids really wanted me to rule on the "correct" answer which I demurred on. Next time, I should also remember to close this with a final vote.
From there I did a version of my initial process with my son and we bridged to building the pyramid templates. I used some cutout templates from here:
http://www.korthalsaltes.com/model.php?name_en=three%20pyramids%20that%20form%20a%20cube
and spread them among the various tables. We eventually cut out 3, folded and assembled them with scotch tape, and confirmed they were identical and formed a cube.
I was hoping that someone would complain that the pyramids weren't exactly the same as the regular ones we started with. That didn't happen so I prompted "Is there anything that doesn't seem quite right in this explanation?" That eventually brought out the idea and I gave a brief hand waving explanation of slicing the pyramids and rearranging them to have the same volume but centered rather than offset to the corner.
Next: I handed out a combination of further platonic solids from the site above (cube, tetrahedron, octahedron, dodecahedron, icosahedron) and from
http://www.senteacher.org/worksheet/12/Nets-Polyhedra.html
. Each table had a different one to assemble. At the same time I brought some pipe cleaners and straws to make companion wire models.
I had everyone work on the models and to tie things together chart the edges, faces and vertices per shape on a communal white board. My hope was to have the kids observe the the
Euler Characteristics
.patterns and I seeded things a bit by arranging the chart V / E / F.
Some of the kid's handiwork.
This worked fairly well. Engagement was good among the modellers (which I had to rotate due to limited tape and scissors) but I had to work a bit to keep the other kids counting edges and faces and thinking about patterns.
At the end I gathered everyone back at the board to discuss the data. There were a few fun observations.
All the numbers were even. (Followup for another time: could any characteristic ever be odd?)
You could more quickly and accurately calculate edges and vertices than counting by multiplying the number of faces time edges/vertices per shape and dividing by the number of faces that met at an edge/vertex.
I had to have everyone think about a numeric relationship for a few minutes but lucked out and one boy discovered V - E + F = 2. At that point my time was almost up so I left with some closing questions:
Is there an equivalent relation in 2-D?
Why do you think this is happening?
Are there any other platonic solids you can discover?
In the end, this was a lot of fun. I actually had templates for stellated polyhedrons and Archimedean solids we never got to in my back pocket. We could easily do a followup day on the topic although my general style is to zig-zag around subjects.
POTW:
This one from an old Purple Comet is interesting because its algebraic but linear not quadratic like I first suspected and you don't need to every find the exact dimensions to discover the perimeter.
https://drive.google.com/open?id=1TUxHXM0j2PvwDMY1k7VGR2WB9YEqo1M7w2G78W89D3U
Related Session:
Euler Characteristic