I'm collecting various problems especially the short lived ones from twitter here for future use. My taste runs towards geometry as is probably evident. For ease of use I've hidden my notes. Click the button below to expose them.
Find the ratio of the area of the red triangle to the green quadrilateral.
[@fayzshafloot5]
Problem 4 [*]
If you flip a particular unfair coin 6 times, P(3H & 3T) = 16%. If you flip the same coin 4x, what is P(2H & 2T)?
Don't forget about the number of combinations i..e 6!/(3!*3!) = 20
Problem 5 [***]
Problem 6 [*]
ABCD is a 6x8 rectangle where the length of AB is 8, and length of BC is 6, and the 2
subsegments in the cross are 2 and 3.
What's the area of EFGH?
Problem 7 [**]
[@sansu_seijin]
Problem 8 [**]
Problem 11 [*]
[@insightsinmath]
Problem 12 [**]
[AMC10]
Problem 13 [*]
Given a 4x6 cm rectangle (AB is the short side) what is the area of CFPG?
[@five_triangles]
Problem 14 [*]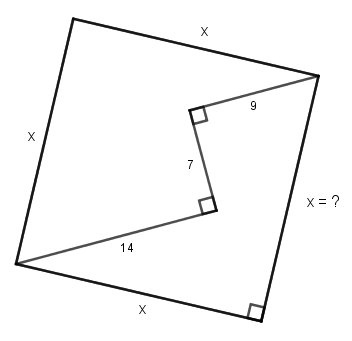 [@Wiskundelessen]
Problem 15 [**]
Problem 16 [*]
Triangles ABE and BCD are congruent by SAS.
Problem 17 [*]
Problem 19 [*]
[Fred Hardwood]
* Note don't forget about the 3 different forms to check 1^n n^0 and -1^n
Problem 20 [**]
[@Mathematicianx3]
Problem 21 [**]
[@eylem]
Problem 22[*]